Go Beyond with Odyssey Neo
Visuals that captivate
The G70NC is the perfect entertainment screen for both media content and games. Become immersed in premium visuals supported by UHD resolution, the Quantum mini LED panel, and VESA Display HDR600.
Stream your favorite content
Featuring the latest content in one place, the G70NC intelligently enables you to discover new shows and movies or re-watch your favorites. Enjoy Smart TV apps whenever you want.
Smooth cloud gaming on demand
Instantly access top streaming services and console games with Samsung Gaming Hub. Samsung's advanced streaming technology delivers smooth play.
Next level gaming performance
144Hz refresh rate, 1ms MPRT response time, and AMD Freesync Premium Pro raise you to the top of your game.
The pinnacle of video visuals
Quantum Matrix Technology
An unrivaled visual experience. Revolutionary Quantum Matrix Technology with Quantum Mini LEDs creates controlled brightness and perfect contrast to bring any game or movie to life in vivid detail. Plus, advanced 12-bit back light unit allows detailed HDR control for unmatched picture quality.
Catch every life-like detail
VESA Display HDR600
Experience a new level of multi-entertainment with life-like visuals. With 1,000,000:1 contrast ratio and VESA Display HDR600, both videos and games deliver abundant, deeper blacks and greater color detail.
Access your favorite shows in a flash
Smart TV Experience
Enjoy your favorite shows and movies through the Smart TV apps. Take a break from marathon gaming sessions and catch up on must-see streaming content with just a simple Wi-Fi connection.
Where gaming comes together
Samsung Gaming Hub
The best of gaming all in one place. Samsung Gaming Hub allows instant access to top cloud gaming services, your favorite consoles as well. Smooth visuals and responsive gameplay are powered by advanced game streaming technology. Just turn on and play.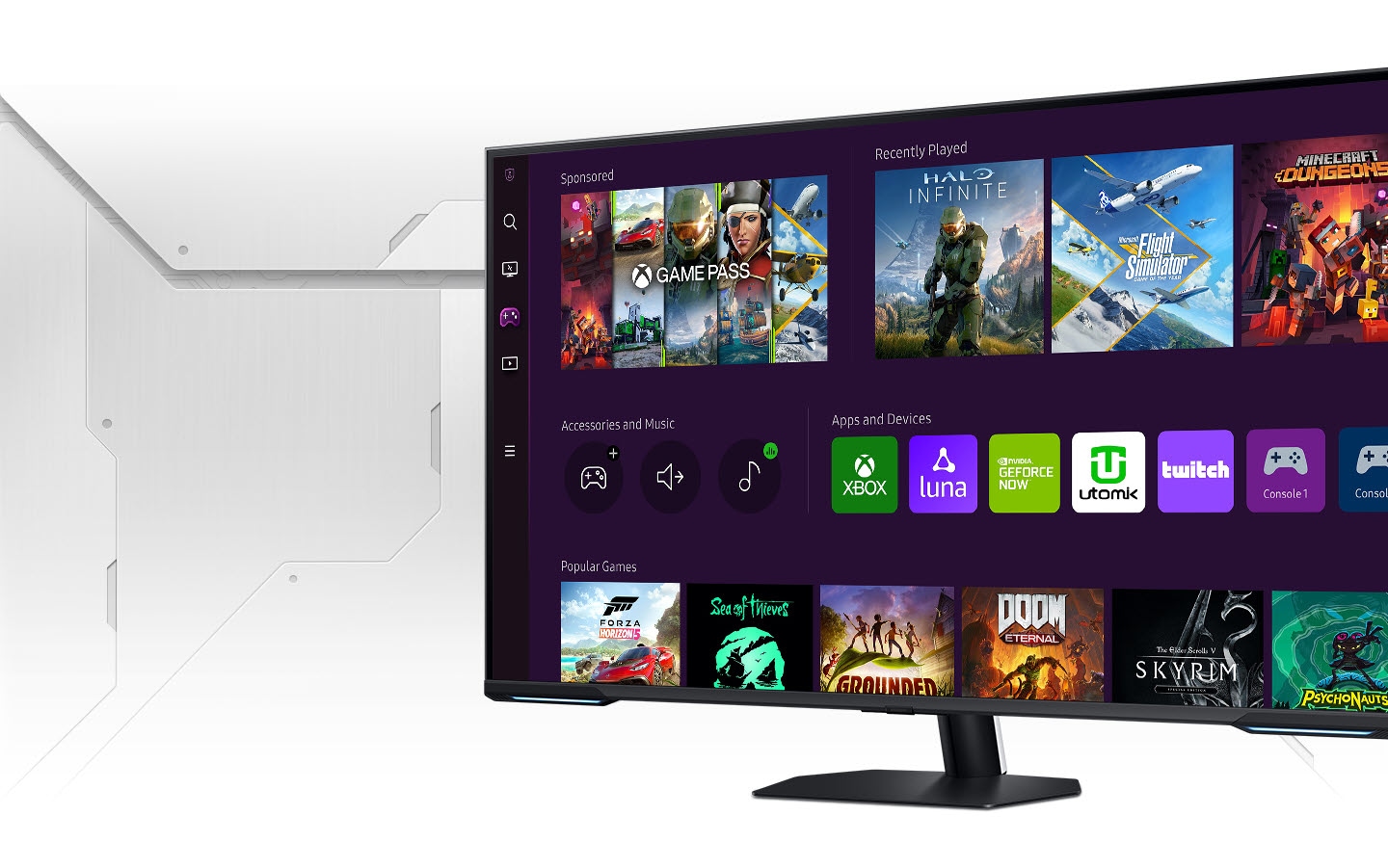 Incredible 4k gaming refresh rates
144Hz refresh rate & 1ms MPRT response time
Conquer every enemy, even at extreme speed. 144Hz refresh rate eliminates lag for exhilarating gameplay with ultra-smooth action. Identify enemies with elite precision with a 1ms MPRT response time, precise mouse movements, and blur-free frames, with minimized ghosting.
Stay immersed with smooth action
AMD FreeSync Premium Pro
Effortlessly smooth gameplay. AMD FreeSync Premium Pro features adaptive sync technology which reduces screen tearing, stutter, and input latency. Low frame rate compensation ensures every scene flows seamlessly.
Minimal glare, maximum game immersion
Matte Display
Focus only on what matters. The matte display absorbs, not reflects, artificial and natural light, minimizing glare and keeping you immersed during the toughest battles and hardest levels.
Quick, simple setup to seize the win
Game Bar
Check and control game settings in an instant. Now, you can easily view the status of the most important settings such as FPS or HDR. Modify response time or screen ratio, as well as the game picture mode without having to leave your game screen to keep you focused on your goal.